When:
October 27, 2022 @ 6:00 pm – 8:00 pm
2022-10-27T18:00:00-04:00
2022-10-27T20:00:00-04:00
Where:
Minerva Free Library Upstairs

Writers' Group
For the Love of Writing
Purpose: to write, of course. But there are benefits to being part of a writers' group. 1) You realize you are not alone. 2) It drives you to work harder and actually complete/publish your work. 3) You see your work through the eyes of a reader. 4) You learn from others' experiences. 5) You learn to endure and give [gentle] critique. But most importantly, our purpose is the HAVE FUN with something we enjoy.
When: Thursday October 27, 6-8 pm.
Where: Minerva Library upstairs meeting room.
Structure of group meetings: 2 hrs in length, 30 minutes writing and preparation, 30-60 minutes collaboration, the remaining time for new planning/writing.
Collaboration – this is hugely important to understand
Everyone shares what they are working on, what's going well and frustrations they are having. This is the place for general questions about writing, how others have tackled similar issues.
If you want someone to look at your work, this will happen after group sharing.

Be specific. What specifically do you want your peer to be looking for?
You must have tough skin – do not take offense (Writing is highly personal; a writer pours themselves into the writing. It is their baby, and they love it [or at least their idea] even though it is not fully mature. Don't ask for feedback if you're not looking for ways to improve.). We want this to be a safe place for writers, but we also want it to be real and of value for our writing.
You may ask about specific grammar and mechanical items in the writing, and we can share what we see, but we are not editors.
Have copies (2-4).

When giving feedback, be honest, but gentle and constructive

First, name two things you find that they are doing well or that you like
Focus feedback for improvement on what the writer is asking for
If you are quite confident you are aware of something that was not asked for in making improvements, you may offer this as a question: i.e. "Is this a typical action for this character, or do you want the reader to notice a change?" Or "How does this relate to your topic? I must have missed it?" Questions like this help a writer know where they need to clarify or further develop an idea.
For additional details contact Julia Casselman at gmajuls@gmail.com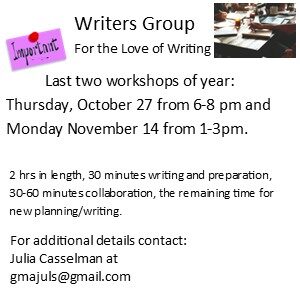 Writing Group- For the love of writing on Thursday